Voltas air conditioners are some of the most reliable and efficient in the market. They have many features, from cooling and heating to filtering the air inside your home or office.
Installing an AC can be complicated, so it's important to consider all the factors that go into the installation process, such as cost and safety.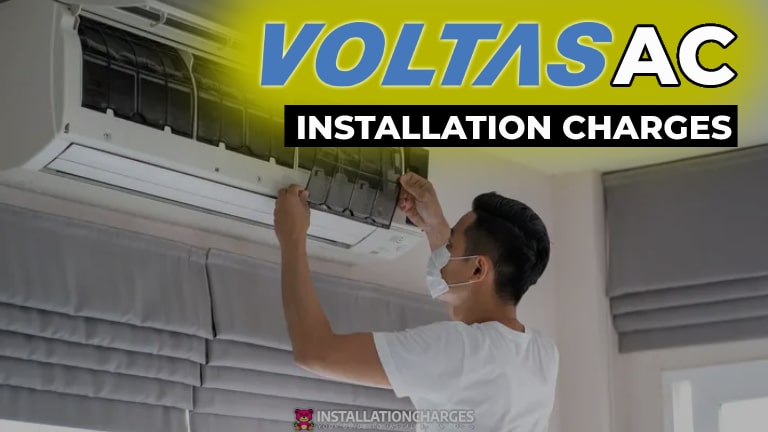 If you own Voltas AC and are willing to know Voltas AC installation charges, then this article is for you. We will look at the factors that determine installation charges, as well as the cost of installation.
Voltas AC Installation Charges
Answer You Are Looking For:
The cost of installation of a Voltas AC can be broken down into two categories: labor and material.
Labor costs are typically based on the technician's skill level and can range from Rs. 500 to Rs. 1,500 depending on the job's complexity. These are the potential costs associated with both online and offline service providers.
Material costs can vary depending on the size and model of the unit, as well as any materials that might be needed for the installation, such as mounting hardware or wiring. Generally speaking, this small material may cost you Rs. 500 to Rs. 800 , depending on the complexity of the installation.
Hence for Voltas AC installation, you should keep aside at least Rs. 2,500 for labor and material costs.
Check Other Brands AC Installation Charges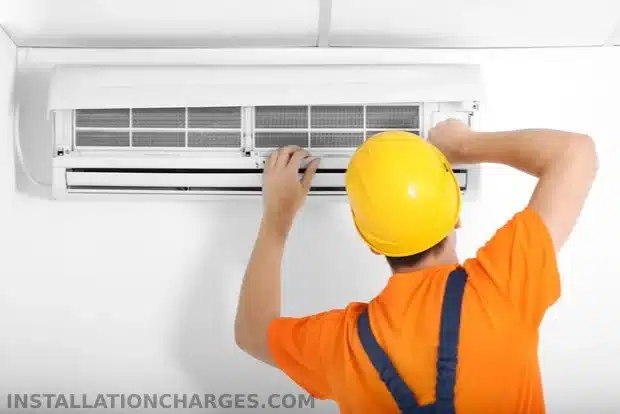 We've recently seen one Voltas Ac buyer, Gladson Devaraj, also on Amazon that paid Rs. 1500 for installation charges and Rs. 800 for the material cost. See the below screenshot for proof.
Another buyer, Ashwin Ramanathan, wrote in his review that he paid Rs. 1500 for installation costs and Rs. 900 for the material cost. He got charged Rs. 100 extra for the material because he needed a long wire for installation. You can understand that the material cost may vary depending on your requirement. See the below screenshot for proof.
Factor That Determines Installation Charges
The cost of your Voltas AC installation can vary depending on several factors, such as the size and type of model you have. For example, installing a central air conditioning unit is usually more expensive than installing a window AC unit.
Additionally, the condition of your home can also influence the installation cost. If you have a newer home with pre-existing electrical and ductwork, the installation will likely be easier and less costly. However, if your home is older, the installation may need more work and materials, making it more expensive.
The complexity of the job can also impact the cost, with more difficult or time-consuming installations resulting in higher costs. For example, if you need to run for new wiring or ductwork, then the cost of installation will likely be higher.
Where To Get The Installation Done
The installation cost can vary depending on where you have the work done.
You have several options here:
Voltas service center: You can book an appointment at a Voltas service center and get your AC installed by qualified technicians.
Local AC installer: You can contact local AC installers in your area and discuss the installation cost.
Local AC Seller: If you've purchased the AC from a local seller, they may offer installation services as part of the package or for an additional cost.
Online Platforms: You can also search online AC installation service providers in your area. Many small and large businesses offer such installation services.
Do it yourself: If you are comfortable working with electronics and wiring, then you can install the AC yourself by watching tutorials on Youtube. However, hiring a professional for such complicated installations is always advisable.
Other Types Of AC Service Installation Charges
Apart from installation charges, there are other costs associated with AC service. These include annual maintenance, Gas filling, and uninstallation costs.
Annual maintenance usually costs anywhere between Rs. 400 to Rs. 600 depending on the size and type of AC. For Voltas ACs, annual maintenance includes cleaning of filters which costs about 500 Rupees.
Gas filling charges typically cost around Rs. 2,500 to 4,500, depending on the type and size of the AC unit. However, this is optional; you must refill the gas only when it leaks or is not cooling.
If you need to uninstall your Voltas AC or any other brand for any reason like shifting, then you can expect to pay around Rs. 500 to 2000 for the same. This is because its cost may vary based on the complexity of the uninstallation.
FAQs
Is installation of Voltas AC free?
Answer: No, installation of Voltas AC is not free. It costs around Rs. 1,500 – 2,500 depending on the location and other factors.
Is AC installation easy?
Answer: Installing an air conditioner is a complicated process that requires expertise and safety precautions. It's best to leave the installation to a qualified professional.
Is Voltas a good company for AC?
Answer: Yes, Voltas is one of the leading companies in India for ACs. They offer a wide range of models with advanced features and come with great after-sales service.
Conclusion
Installing an AC is a complex process and requires expert handling. It's best to leave the job to experienced professionals installing ACS.
However, it costs you Rs. 1,500 to 2,000, including installation and other associated costs for the required material. You can also save money by comparing the prices of different service providers according to your area.
I hope this article helped you understand Voltas AC installation charges. If you have any further queries, feel free to comment below.