Are you looking for the actual cost of the Lloyd air conditioner installation? If so, then you've come to the right place.
In this messy market, different technicians and service providers offer different rates that are difficult to understand.
In such cases, the chances of getting overcharged or being taken advantage of are quite high.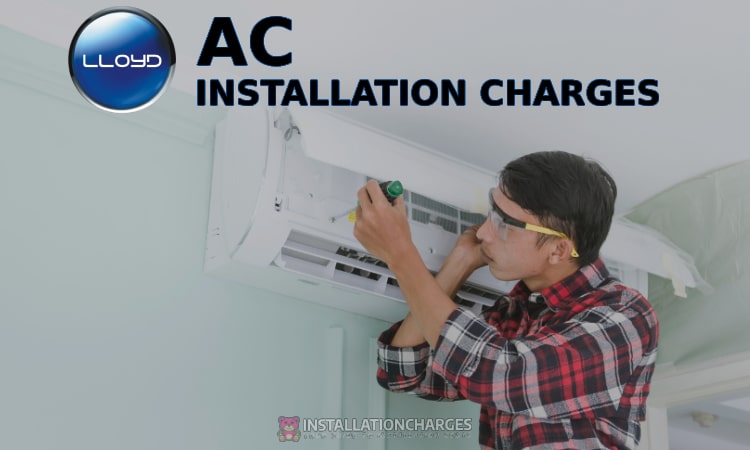 This is why, in this article, we'll take a look at the actual cost of Lloyd AC installation charges and help you make an informed decision. Along with this, we'll also share other related costs that you should know about.
Lloyd AC Installation Charges
Answer You Are Looking For:
You should know that the AC
installation charges
depend on several factors, such as the location, type of AC (Window/Split), and complexity of the installation process.
Typically, the installation cost of Lloyd split AC of any size, either 1 Ton, 1.5 Ton, or 2 Ton, is Rs. 1500.
This includes only the labor cost. For the material, you will need to pay extra.
Also, note that the cost will remain almost the same whether you hire a Lloyd or a third-party installation technician.
If you own a window AC, the installation cost is Rs. 650 to Rs. 1000 without the material cost.
Furthermore, the material cost varies according to each case. For example, if you need additional copper piping for the installation, it will cost extra and other material costs.
So you can keep aside at least Rs. 500 to Rs. 1000 for the material cost depending upon your needs.
Overall, for Lloyd split AC, you should expect to spend somewhere around Rs.2000 to Rs. 2500, and for window AC, you should keep aside at least Rs. 1500.
Check Other Brands AC Installation Charges
Service
Charges ( Additional GST @18% will be charged)
AC Installation
Rs. 2000 to 2500 (for Split AC)
Rs. 1500 to Rs. 2000 (for Window AC)
Gas Filling
Rs. 2,200 (for split AC)
Rs. 1,800 (for window AC)
Dry Service
Rs. 500 (for split AC)
Rs. 400 (for window AC)
Wet Service
Rs. 550 (for split AC)
Rs. 450 ( for window AC)
Uninstallation
Rs. 500
Future Costs Of Lloyd Ac
Apart from the installation cost, there are many other related costs that you should know about.
Here are some of the costs that you may have to bear in the future:
1. De-Installation: If you want to de-install the existing Lloyd AC from the wall, then you should expect to pay Rs. 500 to Rs. 1000 for both split AC and window AC.
2. Gas filling: After every few months or years, you'll need to get the gas-filled. This service costs Rs. 2500 to Rs. 4500, depending on the type of AC and amount of gas needed.
3. Cleaning: Getting the AC cleaned at least once a year is highly recommended. The cleaning cost is Rs. 500 to Rs. 1500. For deep cleaning, the cost goes up to Rs. 1500.
4. Repairing: In case of any technical faults, you'll need to get the AC repaired. The repair cost varies based on the parts and complexity of the repair. You can expect about Rs. 500 to Rs. 800 as the minimum repair cost.
Where To Hire Affordable Technicians
If you're looking for a reliable and affordable technician for installing the Lloyd AC, we highly recommend hiring a reputed service provider.
The first and best option is to go with a Lloyd technician. They are experienced, and they know the product in and out.
You can get their service at a nominal cost. Just contact your nearest service center or contact them through their website. If their technician is unavailable in your area, you can find a third-party technician.
You can find several third-party technicians through online websites. All you have to do is search for an AC installation in your area, and you will get a list of technicians with ratings.
You can call each of them, compare the quotes, and select the most affordable and experienced one.
Lastly, you can always ask your family and friends for a reliable technician or search yourself in the market. Anyone who already installed the AC can refer you to a technician they know.
Factors That Affect Lloyd AC Installation Charges
Apart from the type of AC, some other factors can affect the installation cost of an AC. Here's a look at them:
1. Location: If you live in a remote area, the technician may charge extra due to traveling costs.
2. AC brand: The installation cost for other brands may vary compared to Lloyd.
3. Difficulty of the job: If the installation process is complex, then you should expect higher charges. This depends on your house structure.
4. Extra material: If you need any extra material for the installation, then it will cost you extra.
5. Extra labor: If you need extra labor, the cost will increase.
Tips To Save Money On Lloyd AC Installation
If you're on a tight budget and want to save money on Lloyd AC installation, then there are a few tips you can follow:
1. Compare quotes: The best way to save money is by comparing quotes. Call multiple technicians, compare the prices, and select the one that suits your budget.
You can contact Lloyd technicians, search online, and even ask your local market for technicians. After contacting them, try your best for a discount from each and compare the offers.
2. Ask for a discount: If you're hiring a Lloyd technician, then don't forget to ask for discounts or free installation. They often offer discounts or free installation as a loyalty reward to their customers if you've purchased a new AC from them.
3. Extra labor: If you need extra work for the installation along with a technician, then it's better to help yourself or call your family and friends, as they can help you with this.
4. Material: Instead of asking the technician to provide material for installation, it's better to buy it yourself. This way, you can save a lot on material costs. By bargaining, you can easily buy all the materials from the local market at a low cost.
These are some tips that can help you save money on Lloyd AC installation.
FAQ'S
What factors determine the cost of Lloyd AC installation?
Answer: The cost of Lloyd AC installation depends on various factors such as the type of AC (split or window), the size of the AC (1 Ton, 1.5 Ton, 2 Ton), the complexity of the installation process, additional materials needed, and your location.
Has the installation cost the same for both Lloyd technicians and third-party technicians?
Answer: Yes, generally, the installation cost remains similar whether you hire a Lloyd technician or a third-party technician. The key cost components are typically labor charges and material costs are separate.
What are the future costs associated with owning a Lloyd AC?
Answer: Apart from installation, future costs include de-installation, gas filling, cleaning, and repairs. De-installation can cost around Rs. 500 to Rs. 1000, gas filling might range from Rs. 2500 to Rs. 4500, cleaning can cost between Rs. 500 to Rs. 1500, and basic repairs might start at Rs. 500 to Rs. 800.
How can I hire an affordable technician for Lloyd AC installation?
Answer: To find an affordable technician, you can reach out to Lloyd technicians directly, explore online platforms for third-party technicians, ask for recommendations from friends and family, or compare quotes from multiple technicians in your area.
What are some tips for saving money on Lloyd AC installation?
Answer: To save on installation costs, you can compare quotes from various technicians, inquire about discounts from Lloyd technicians, consider involving friends or family for additional labor, and buy the required installation materials yourself after bargaining with local vendors.
Conclusion
As you can see, the installation cost for Lloyd AC depends on several factors, such as the type of AC, the job's complexity, location, and extra material needed.
To save money, you can try all the above-shared tips. Also, always try to compare the offers from multiple technicians before making a decision.
We hope that this article was helpful for you in clearing the doubt on Lloyd AC installation charges. If you've any other questions, feel free to ask in the comment section below.