Have you just purchased Godrej AC and are looking for the installation charges? Do not worry; this article is for you.
This blog post will share Godrej AC installation charges from different vendors.
We will also provide tips and tricks to help you get the best possible deal on the installation service of your new Godrej AC. And factors that can increase or decrease the installation charges.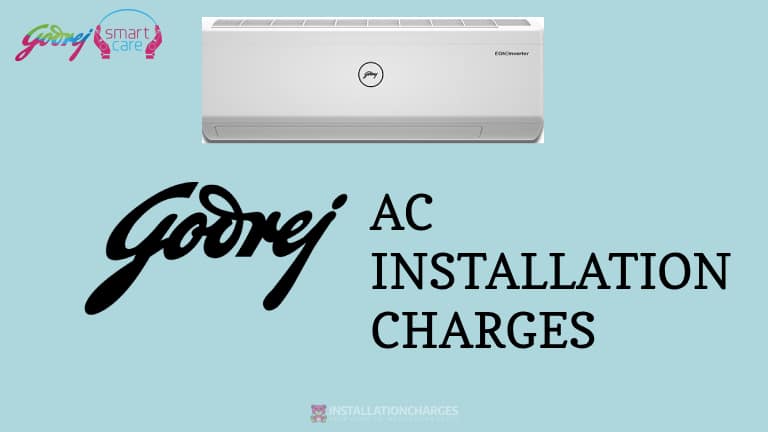 So, let's make sure that you get the best deal for your Godrej AC installation.
Godrej AC Installation Charges
Answer You Are Looking For:
The Godrej AC installation charges depend on the technician and from where you hire them. Also, the exact charges depend on different factors, which will be covered later in this article.
If you hire a technician from the Godrej company itself, the installation charges for Godrej AC will be around Rs. 1800 for split AC, including GST. The same technician for window AC will cost around Rs. 750 with GST.
Furthermore, Flipkart also offers installation services for Godrej AC. They cost around Rs. 1415 for split AC. They have not mentioned anything about window AC. However, Flipkart offers this service only in some cities, and the technician may charge extra for installation. To check the availability, you can go to the Flipkart website and look out for serviceability in your area.
If you hire a technician from a local market, the charges depend on their demand and your negotiation skills. You can pay them around Rs. 1500 for split AC and Rs. 500 to Rs. 1000 for window AC. Just make sure to check the technician's background and experience before hiring them. The technician must have installed Godrej AC before for better installation.
Check Other Brands AC Installation Charges
Also, make sure to consider the material cost for installation. The technician may charge extra for the materials used in your AC installation, like pipes, wires, etc. You can either get them from the local market or ask the technician to bring them. If you get it yourself, you can save some money.
You can expect around Rs. 500 additional installation charges for the material.
Factors Affecting Godrej AC Installation Charges
The exact installation cost of Godrej AC depends on several factors. So let's have a look at these factors so that you can bargain effectively.
Technician: As discussed before, the installation charges depend on the technician's background and experience. The charge of a professional with more years of experience will be more than a novice technician.
Location: If you are in remote areas, the cost may increase due to the transportation charges of the technician. You can look out for local technicians near your area to save costs in transportation.
Type Of AC: There are mainly two types of AC – Split and Window. The installation cost of split AC is higher than the window as it requires more work.
Accessibility: If the technician has to work in a tight space or remove any obstacles like furniture while working, the cost may increase due to the additional effort required.
AC Size: AC comes in different sizes like 1 ton, 1.5 ton, and 2 ton. The installation cost may also vary according to the size of the AC.
So far, we've seen Godrej AC installation charges from different vendors and the factors that decide the cost. But this is not the end. If you own AC, you'll face many other maintenance charges in the future. So let's consider that as well.
Other Maintenance Charges of Godrej
The cost of maintaining Godrej AC is also important to consider for efficient and smooth working of AC. There are some additional charges you may face while owning a Godrej AC.
Regular Service Charges: Regular service from technicians will help your AC run smoothly without any problems. The charge for the service depends on where you hire the technician. You can expect to pay around Rs. 500.
If you hire a company technician, they will cost more than the local technician. Therefore, it is better to hire a local technician for regular service.
Uninstallation: For any reason, if you want to uninstall your Godrej AC, the cost will depend on your location and technician.
However, hiring a company technician will cost Rs. 725 for split AC and Rs. 600 for window AC.
Gas Filling: If your AC is not cooling properly, you might need to fill the gas in your AC. The cost of this is around Rs. 2500 to Rs 4500.
Repair: If any part of your AC is damaged, you may need to replace it. The cost depends on the component type and where you buy it.
FAQ's
Is installation included in the purchase of a Godrej AC?
Answer: In most cases, installation charges are not included in the purchase of a Godrej AC. Customers typically need to pay extra for the installation service.
How can I get a quote for the installation charges for my Godrej AC?
Answer: You can request a quote for installation charges by contacting your nearest Godrej authorized service center, Godrej dealer, or by visiting the official Godrej website. They will provide you with a customized quote based on your specific requirements.
Are there any hidden charges for Godrej AC installation?
Answer: Typically, reputable Godrej service centers and dealers provide transparent quotes, and there should be no hidden charges. However, it's essential to clarify this with the service provider before confirming the installation.
Do Godrej AC installation charges vary by location?
Answer: Yes, installation charges can vary by location due to differences in labor costs, transportation, and local regulations. It's advisable to check with local service providers for accurate pricing.
Conclusion
Installing or maintaining Godrej AC can be quite expensive if you don't know the right place and technician. Therefore, it is important to consider all factors responsible for installation cost.
I hope your search for what is Godrej AC installation charges in this blog post was successful. If you have any queries or suggestions, feel free to comment below.