Tata Sky offers a range of services for its customers, including installation and setup. It is essential to understand the associated charges for Tata Sky installation before deciding to opt for the service.
If you're planning to install Tata Sky at home or office and are confused about the installation charges, this blog post is for you.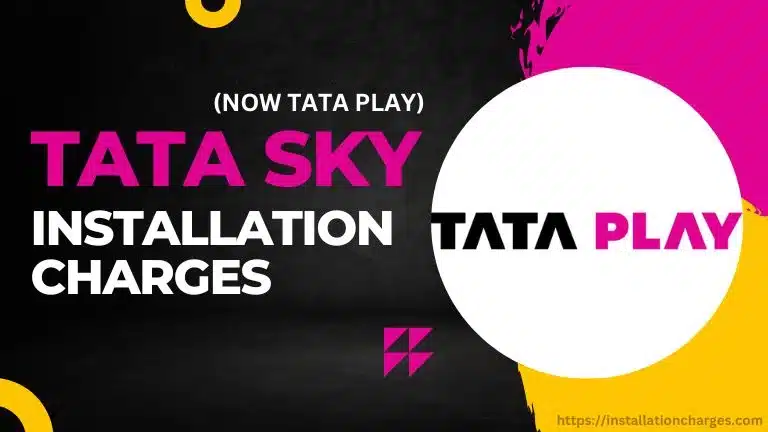 Here, we will provide an overview of Tata Sky installation charges and the various components that affect them. Read on to determine the associated costs and whether investing in a Tata Sky installation is worth it.
Tata Sky Installation Charges
Before moving further, understand that Tata Sky is now Tata Play Fiber. So the next time, make sure to search Tata Play Installation charges instead of Tata Sky Installation cost.
Answer You Are Looking For:
The installation charges of Tata Sky depend on the type of plan you choose.
If you choose a 6-month plan at first, the installation charges will be Rs. 0 (free) . However, if you opt for a 1 month plan, the installation cost will be Rs. 500 .
So, the Tata Sky installation charges depend on the plan you choose. And if you choose 6 month plan, the expert will come and do the installation process with a free Wi-Fi router.
Furthermore, different plans are available according to speed and features, and the charges associated with each plan vary accordingly.
You can get a monthly plan from Rs. 699 to Rs. 3600. The difference will be in speed. Whereas for 6 month plan, you can buy a plan from Rs. 3,300 to Rs. 19,800, with the difference being in speed and features you want.
Check Other Brands Fiber Installation Charges
Different Plans Of Tata Sky Or Tata Play Fiber
Tata Sky offers a range of plans to suit different requirements. So, let's have a look at the plans available and their charges.
Internet Speed Up To
(Unlimited)
1 Month Plan (Rs)
3 Months Plan (Rs)
6 Months Plan (Rs)
12 Months Plan (Rs)
50 Mbps
699
2097
3300
6000
100 Mbps
950
2700
4500
8400
150 Mbps
1050
3000
5100
9600
200 Mbps
1150
3300
5550
10200
300 Mbps
1500
4500
8400
15600
500 Mbps
2300
6900
12900
24600
1 Gbps
3600
10800
19800
36000
Note: All this plan comes with unlimited data, but after the FUP (Fair Usage Policy) limit, which is 3300 Gb, your speed will be reduced to 3 Mbps.
Our Recommended Plan:
We recommend going with at least a 3-month standard plan with 50 Mbps speed, which costs ₹ 2097 for 3 months.
Benefits Of Tata Sky
Apart from the installation charges, there are various other benefits associated with Tata Sky. Some of them include:
24/7 support for set-up and maintenance.
Different Plans are offered to meet different needs.
Reliable connection with no lags or buffering.
Unlimited data with no extra charges.
Easy installation and activation process.
No additional equipment is required.
Tata Sky Installation Process
If you're impressed with the services and plans offered by Tata Sky, you can opt for installation. The entire process is quite simple and involves the following steps:
Step 1: Decide the plan you want to opt for, as per your requirements. You can check connection feasibility at your location online. Here is the website link to check.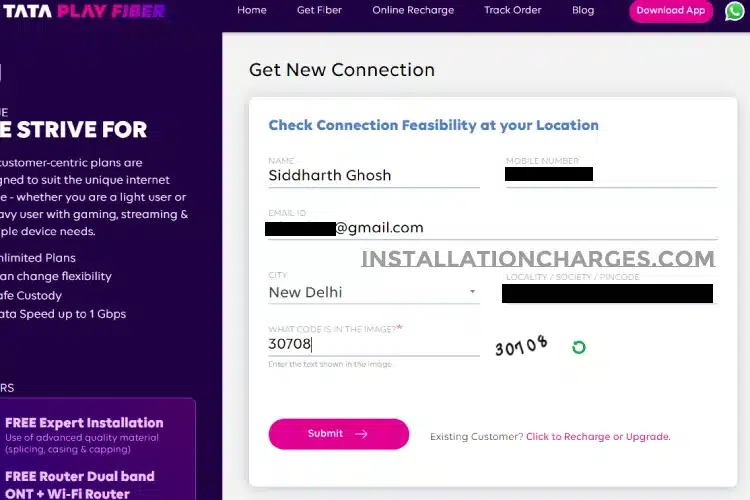 Step 2: Contact Tata Sky customer care through their helpline number or email. Phone number: 1800 120 7777, Email: [email protected].
You can also visit the nearest Tata Sky Store and get the installation done quickly.
Step 3: Provide information about your address and plan details to the customer representative.
Step 4: An expert will visit your place to install and set the device up.
Step 5: The installation charges will be added to your monthly bill if you have opted for a one-month plan. Otherwise, the installation cost will be free.
Step 6: After installation, check whether all the services are working as expected. This is important to ensure a smooth user experience.
This is all that you should know about the Tata Sky installation charges and process.
FAQs
Does Tata Sky provide free installation?
Answer: Yes, if you opt for the 6-month plan, the installation cost of Tata Sky will be free. If you choose one month plan, the installation charges will be Rs. 500.
How to install Tata Sky at home?
Answer: To install Tata Sky at home, you can contact the customer care number or visit the nearest store. An expert comes to your place and does all the installation processes with a free Wi-Fi router. 
What is the cheapest pack of Tata Sky?
Answer: The cheapest pack of Tata Sky is Rs. 699 per month, with a speed of up to 50 Mbps. However, if you choose this plan for the first time, you must pay installation charges of Rs. 500.
Conclusion
In conclusion, Tata Sky offers multiple plans with different speeds and features. The Tata Sky installation charges are free, and even if you choose 1 month plan, it is still quite pocket-friendly.
The installation process is quite simple, and the support team is available 24/7 to assist. So, if you are looking for an efficient and reliable internet connection, you can go for Tata Sky or Tata Play Fiber. It has something to offer to everyone.