Do you have no idea about the AC installation charges, especially if you own a Panasonic air-conditioner?
Are you worried about paying too much charges for AC installation or facing difficulty making a budget? It's time to say goodbye to your worries. In this article, we'll share Panasonic AC installation charges with all the information you need to know.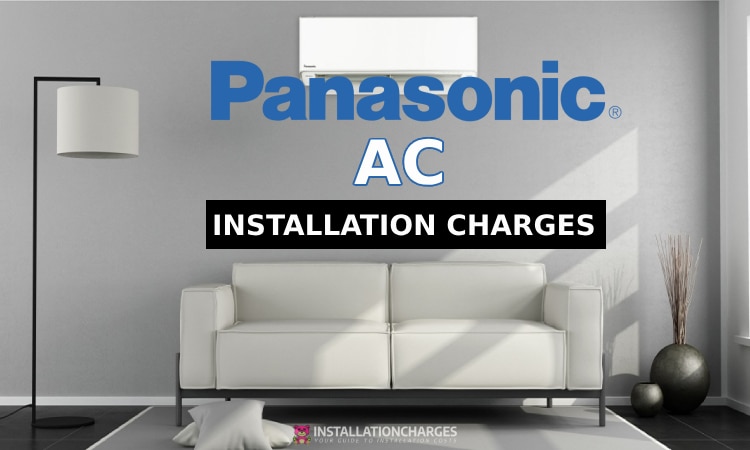 We'll also dive into how to find an expert technician with tips to save money in installation. So let's get started.
Panasonic AC Installation Charges
Answer You Are Looking For:
First of all, you should know that Panasonic AC installation charges can vary significantly depending on different factors. Such as the type of AC (window/split), your location, the complexity of AC fitting according to your house structure, and more.
But to get an idea or a general estimation of installation charges to set a budget or bargain, below is the general cost for Panasonic AC installation.
If you have opted for a Panasonic split AC, it would cost around Rs 1800 depending on the various factors. And if you own a Panasonic window AC, then it would cost you slightly lower, around Rs 1200
Check Other Brands AC Installation Charges
These are the approximate charges for installing Panasonic AC, and might the technician charge a little lower or extra for the reason mentioned above.
Also, note that this cost includes only labor charges and does not include the cost of materials. You've to pay for the necessary materials, like copper pipes, wires, insulation, etc., separately. And these material cost varies according to your AC fitting requirements.
If you're making a budget, you can add around Rs 400-800 extra for the material cost.
Service
Charges
AC Installation
Rs. 1800 (for split AC)
Rs. 1200 (for window AC)
AC Gas Filling/Refilling
Rs. 2500-4500
AC Deep cleaning service
Rs. 1500
AC General cleaning service
Rs. 500
AC uninstallation
Rs. 1000
Some Other AC Installation Essential Charges:
Tips To Find An Expert Technician And Save Money In Installation
Finding an expert technician on a budget can be tricky. But with a few tips and tricks, it can be done. Here are a few things you can do to get the best possible technician at your service.
Get A Company Technician: Call your AC company to get the best, most experienced technician. They usually have a team of certified technicians and will provide you with an experienced technician for installation services.
Ask around: Asking friends and family in the neighborhood for a good technician is always a great starting point. If anyone has installed the same AC, they can suggest reliable technicians to you if they are satisfied.
Check online marketplaces: There are various online marketplaces from which you can find verified professional technicians with customer reviews and ratings. You can search for a technician according to your location and connect with them via call.
Compare prices: Once you have narrowed down a few reputable technicians, compare their charges and choose the one that fits your budget.
Do a background check: Check the technician's credentials and reviews from other customers before hiring them to ensure you're getting quality service for your money.
Buy materials yourself: If possible, try buying all the necessary materials yourself, as it will save you some money. The technician may charge extra on material costs.
What Factors Affect Panasonic AC Installation Charges?
Apart from the type of AC you purchased, several other factors affect the installation charges for your Panasonic AC.
Here are some of the factors that might affect the installation charges.
Type of Ac: The type of air conditioner you own will also affect the installation charges. As mentioned earlier, split ACs cost more to install than window ACs.
Location: Your location can greatly impact the overall cost of installation. For example, if you live in an area without public transport or easy access for technicians, they might charge extra for the hassle.
Complexity of Installation: This is also very important to consider while estimating your AC installation charges. The complexity of installation depends on various factors like the size of your house, number of floors, type of roofing, and other elements that might affect fitting an AC in your home.
Materials: As mentioned earlier, you will need to purchase extra materials like copper pipes, wires, and insulation before the installation process starts. The cost of these materials depends on how much you need and the quality.
Technician: Different technicians charge different fees for their services depending on their experience and expertise. It's important to compare different technicians' prices before settling on one.
Other Panasonic AC Related Cost
Besides installing your AC, there are some other costs you might need to consider for future use.
AC Uninstallation: If you ever need to uninstall your AC, it might cost around Rs 1000, and extra charges may apply depending on the complexity of the AC and its location. Whereas for window AC, it would cost around Rs 600.
Cleaning Service: Regular cleaning of your AC will help it run more efficiently and increase its lifespan. It costs around Rs 500 for cleaning and Rs 1500 for deep cleaning.
Inspection Cost: If you think there is any issue with your AC, you can call the technician for a general inspection. It normally costs around Rs 150.
Gas Filling/Refilling: If your AC runs out of cooling gas or needs refilling, it will cost you Rs 2500-4500, depending on the brand and type.
So these are some of the Panasonic AC installation charges to consider before you make a budget for your AC setup.
Conclusion
To sum up, Panasonic AC installation charges vary depending on a few factors, such as the type of AC, your location, the complexity of installation, and more.
To be sure to get the best deal for your AC installation, compare prices from different technicians and purchase materials yourself. Remembering these tips and tricks can help you save a lot of money on AC installation.
I hope your search is successful. Feel free to comment if you have any further questions.